The Best Android VPN Apps
The Best Android VPN Apps
Protecting your internet connection while you're at home or on your laptop on the go is important. But why protect just one part of your internet use?
If you're using an Android phone, you should be using a VPN whenever you connect to the internet.
Let's talk about why that's a good idea, then discuss the best VPNs for Android phones. We'll go over our selection criteria, then provide our recommendations.
Why Use an Android VPN?
Just like the internet traffic that you send from your home or work computer, the traffic you send from your phone should be protected. A VPN provides that protection.
In short, though, using a VPN on your Android
Keeps people from spying on your internet connection
Bypasses geo-restrictions (especially useful for streaming Netflix)
Lets you torrent files without reprisal
Help keep your personal data secure
Protects your anonymity online
You might not think that you have any reason to hide the internet traffic coming from your phone, but remember that you send texts, photos, and emails from it. Would you want someone spying on those? Even if you're not sending anything particularly private, you still don't want anyone snooping.
The Electronic Frontier Foundation recommends using VPNs to avoid surveillance by your ISP. The same is absolutely true of your mobile data provider, and for all the same reasons.
There are certainly other reasons you might use a VPN, but these are the most popular. Protected browsing is crucial for streaming and torrenting from your phone, but the security benefits alone are worth setting up a VPN.
1. ExpressVPN – Fast, Premium VPN
Speed: 83.15 Mbps out of 100 Mbps
Users Rating (Google Store): 4.1/5.0
Cost: $6.67/mo
Logging Policy: No Logs
Netflix: Working
Torrenting: Torrenting Allowed
ExpressVPN is one of the fastest providers that we've tested, clocking over 83 Mbps download speed on our 100 Mbps connection.
While the speed you get on your Android phone will vary largely based on your phone and your connection, you can be confident that you'll get about as fast a speed as possible with ExpressVPN.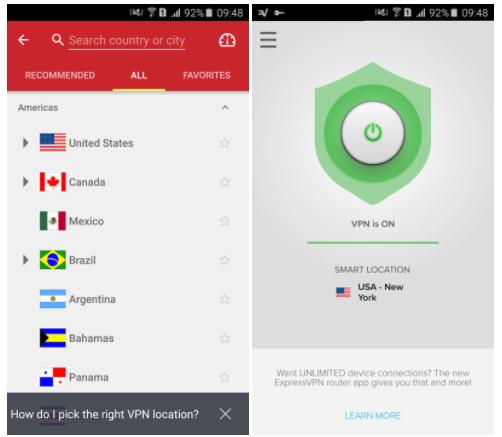 The Android app works with a variety of Android installations, from the latest version, Oreo, all the way back to Jelly Bean. Even if you're running an old version of Android, your VPN will work and be secure.
One of the great features included in ExpressVPN's Android app is the recommended location; as soon as you fire up the app, it will recommend servers to you based on where you'll get the best connections. With a tap, you can connect to their fast servers all over the world. It doesn't get much easier than that. You can also save your favorite servers for faster access.
We also like that the app defaults to OpenVPN, the most secure VPN protocol. And the 4.1 rating is confidence-inspiring, as well.

The only place ExpressVPN falls notably behind its competitors is in price. If you pay for a full year up front, it works out to $8.32 per month. If you pay 15 months upfront, it's $6.67/mo.
That's on the more expensive side of top-tier VPNs. That being said, if you're going to use your Android VPN a lot—which we recommend—it's worth it.
2. NordVPN – Smooth, Easy and Affordable
Speed: 74.15 Mbps out of 100 Mbps
Users Rating (Google Store): 4.4/5.0
Cost: $3.29/mo
Logging Policy: No Logs
Netflix: Working
Torrenting: Torrenting Allowed
NordVPN is a top contender in every category, but it stands out among Android VPNs for the remarkably high reviews it gets from its users: Nord's app earned a 4.4 ranking, one of the highest we've seen:

In addition to one-tap access to over 2,000 servers in 60 countries, the app also has a built-in adblocker so you can browse the internet more freely and use less data. All you need to do is tell NordVPN where you want to connect, and you'll be instantly connected to their network.
We also love that they offer a free seven-day trial, so you can check out the Android app to see if you like it. If you don't, all you have to do is cancel the service.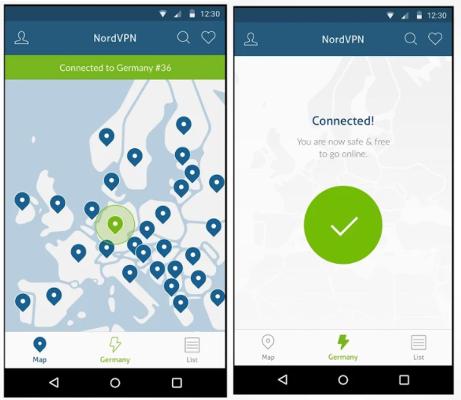 We think you'll like it, though; with solid speed scores (74 Mbps download on our 100 Mbps connection), industry-standard encryption, and a mind-boggling number of servers, there's not a whole lot more you could ask for. It's not the fastest out there, but it should be plenty fast for anything you're doing from your phone.
Another great feature is NordVPN's extra-secure Double VPN.
It routes your traffic through two VPN servers instead of a single one to give you doubly encrypted data. This feature might slow down your connection, but if you need to be absolutely sure that no one knows what you're doing online, you can be confident in Double VPN.
When you top all of that off with a very affordable pricing structure, you get a winner. If you sign up for a two-year plan with NordVPN, you'll only pay $3.29 per month. Not many VPNs charge less than that.
3. VyprVPN – Good Option for Geo-Restrictions
Speed: 74.48 Mbps out of 100 Mbps
Users Rating (Google Store): 4.3/5.0
Jurisdiction: Switzerland
Cost: $5.00/mo
Despite their questionable logging policy (which you can read more about in our full review), VyprVPN makes a great VPN for your Android device. If you're not worried about your VPN provider keeping some of your information, it's definitely worth downloading.
One of the big advantages of VyprVPN is its Chameleon encryption. This takes standard OpenVPN technology and scrambles the metadata to make it more difficult for your ISP, wifi provider, or anyone else to figure out that you're using a VPN. This is great if someone is blocking VPN traffic.

Beyond that, the app has everything you'd expect from a top-tier Android VPN app. Simple server choice, easy kill-switch on and off, the ability to mark certain servers as your favorites, and recommendations for the fastest server from your current location.
When we tested it on our 100 Mbps connection, we got 74 Mbps downloads, which is one of the fastest we've tested. Again, remember that you won't get these same speeds on your phone. But you can bet that you'll get better speed with VyprVPN than you will with many other mobile VPN providers.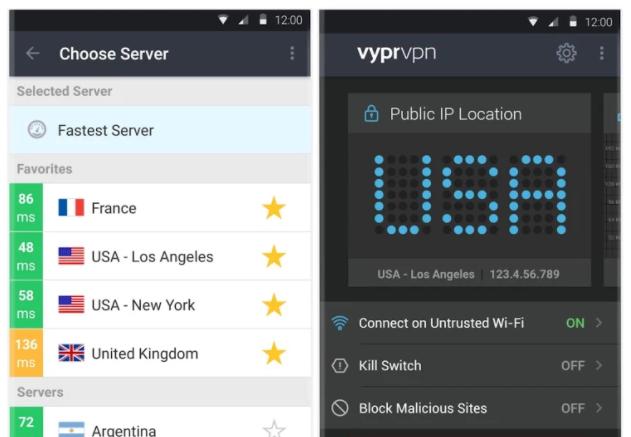 The 4.3 rating on the Play Store is also reassuring; that's one of the highest among Android VPNs that we've checked out.

An annual plan will see you paying $5.00 per month, which falls around the middle of VPN prices. It's certainly not expensive.
But it doesn't compete with NordVPN's super-low prices, either. You can also try the mobile VPN with 1GB of data to see how it works in your area.
4. PrivateInternetAccess – Solid Budget Option
Speed: 81.46 Mbps out of 100 Mbps
Users Rating (Google Store): 4.0/5.0
Jurisdiction: United States
Cost: $2.91/mo
PIA is known for its high speeds. It maintained 81% of our 100 Mbps connection speed when we tested it on a PC, logging one of the fastest speeds we've ever seen. So if you're looking for the fastest Android VPN, you should give Private Internet Access a shot.
The app also has a 4.0 rating in the Play Store—people really like it. It's not hard to see why, with easy connections, automatic server recommendations, per-app VPN rules, and ad blocking.

Although we recommend using a VPN for any internet connection on your Android, we understand that you might want more speed when you're using certain apps. Letting some of them connect outside of the VPN will do that.
PIA has over 3,000 servers, which is a staggeringly high. You'll always be able to find one in the country you want that's not getting slammed with traffic. And because you can get a two-year subscription that brings your monthly cost under $3, it's also one of the most affordable VPNs.
5. TunnelBear – Favouring User Reviews, but a Little Slow
Speed: 52.26 Mbps out of 100 Mbps
Users Rating (Google Store): 4.4/5.0
Jurisdiction: Canada
Cost: $4.16/mo
As we mentioned previously, the app itself has to be good for us to recommend an Android VPN. And TunnelBear has a fantastic app—which is one of the reasons why it's currently rated 4.4 on the Play Store, one of the highest we've ever seen for a paid VPN.

That's not much of a surprise, considering how fun the app is to use. Like everything else made by TunnelBear, it's full of fun graphics and cute bears. Which might not sound like it's worth anything, but if the app is easy and pleasant to use, you're more likely to use it.
And the VPN itself is great, too. Android, unlike iOS, gets 256-bit OpenVPN encryption, which means your traffic is secure. It's not the fastest VPN out there (we got 52 Mbps download speed on our 100 Mbps connection), but it is stable and they have a no-logging policy that we really like.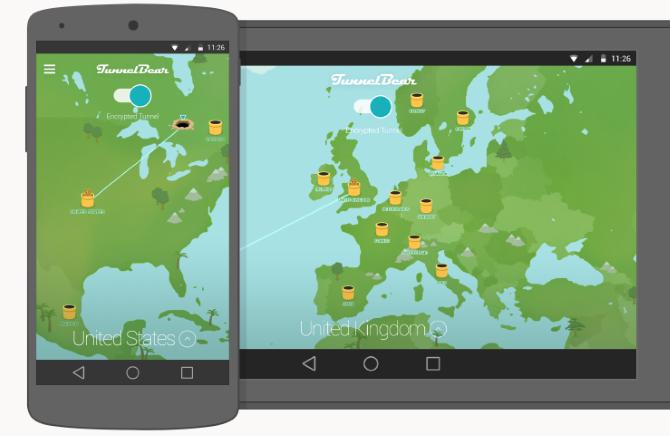 Their paid plans, which start at $4.16 per month, paid annually, are some of the cheapest we've seen. And there's a free plan so you can try the app out to see how it works for you. You'll be limited to 500MB, but you shouldn't need much more than that to see if it's worth paying for.
Why We Don't Recommend Free VPNs for Android
Lots of people know that they should be using a VPN. But fewer are willing to pay for it. That's why there are thousands of people out there looking for the best free Android VPN. As you'll see in a moment, we don't recommend any free VPNs.
Why not? Because free VPNs come with compromises. First, they're often not very reliable. Providers of paid VPNs aren't likely to prioritize the traffic of their free users, and if you aren't willing to pay, you're going to get second-rate service.
The same applies to speed. Free Android VPNs just aren't going to be able to compete with paid options on speed. You'll get faster, more stable connections from a paid provider, and that's worth a lot.
Second, providers of free VPNs still have to make money. And if they're not getting it from you, they're getting it from advertisers. Free VPN providers are more likely to log your information, sell your data to third parties, and display ads while you're connected. While ads are annoying, having your data collected and sold is a violation of your privacy.
And because privacy is one of the most important underlying principles of any VPN, that's bad news.
For all of these reasons, we recommend that you always use a paid VPN for Android. You'll get faster, more stable service, and your privacy will be better protected. And with the low costs of many of the VPNs below, you can get those things affordably.
What We Look for in Android VPNs
So what makes a great Android VPN? In most cases, it's the same factors that make any VPN a good one. High speeds. No logging of any kind (or, at the very least, minimal logging). Solid encryption for security and privacy.
We also prefer that VPNs not be headquartered in countries that have strict surveillance and data retention laws, like the US, Canada, the UK, and much of western Europe. Some VPNs in these places are very trustworthy, but we prefer that they be housed in more lenient jurisdictions. Though any worthy VPN will have servers all over the world.
Simple, straightforward apps are also a big plus. If you have to spend a long time figuring out how to get online with your VPN, you're much less likely to use it regularly. And that could expose you to security and privacy risks. The easier it is to get online, the better.
We also look at app reviews in the Google Play Store to see how users feel about the app. If a VPN app has more one- and two-star reviews than other apps, it's cause for a closer look.
And, of course, we look at price. We know that an expensive VPN doesn't fit into everyone's budget, so we try to highlight the options with the best value.
The Best Android VPNs Are at Your Disposal
The five VPNs we listed above are fantastic options for Android users. They'll keep your traffic private, help you get around geo-restrictions, and keep your ISP from throttling your traffic. And because they're at least relatively affordable, they'll do it all without breaking the bank.
ExpressVPN – $6.67/mo
NordVPN – $3.29/mo
VyprVPN – $5.00/mo
Private Internet Access – $2.91/mo
TunnelBear – $4.16/mo
If you're not using an Android VPN, you should start doing it now. You can't go wrong with any of these choices, so pick one and start browsing more safely today!